Around 1947, while still in his youth, the artist created his
first works.
Fortunately, some
watercolour paintings from this period still exist
.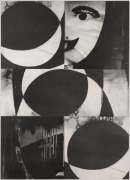 Although fewer in number than his sculptures and ceramic objects, Schäffenacker´s works on paper display just as much diversity. In these works, we discover something less frequently encountered in his other works, however, namely, dance-like movement and elegant grace. As one would expect from
this artist, his prints and drawings cover a wide spectrum of motifs, ranging from abstract collages to animal studies to images that suggest beauty and the elegance of motion
. After his return from a four-week trip to Japan, during which he devoted himself to the study of Japanese art, inspired by East-Asian calligraphy, Schäffenacker soon produced a number of pen-and-ink drawings that recall the sweeping spontaneity of the calligraphic pen. These drawings exhibit the artist´s profound fascination with Asian modes of expression, its unique combination of frugality and precision.
A series of pen and ink drawings in
colour
and
black-and-white
completed in 1972 paved the way for the artist´s outstanding mixed-media compositions. In these experimental compositions, the artist played with the contrast between
constructive elements such as beams, bands, grids and fields
as well as unusual materials. By encouraging impromptu crackling and applying splatter, his motifs reveal the hidden order in chaos.